Welcome to the art of singing! Vocal study is approached with the understanding that the voice is a wonderful, creative and colorful instrument. A successful "quality" chorus requires willingness, diligent study, discipline and work.
The Ooltewah Middle School chorus is available for 7th and 8th grade students. Vocal music is a year round subject. Auditions are held during the last 9 weeks of the school year. Chorus performs both a Winter and Spring Concert.
For more information contact Ms. Allen, Choral Director.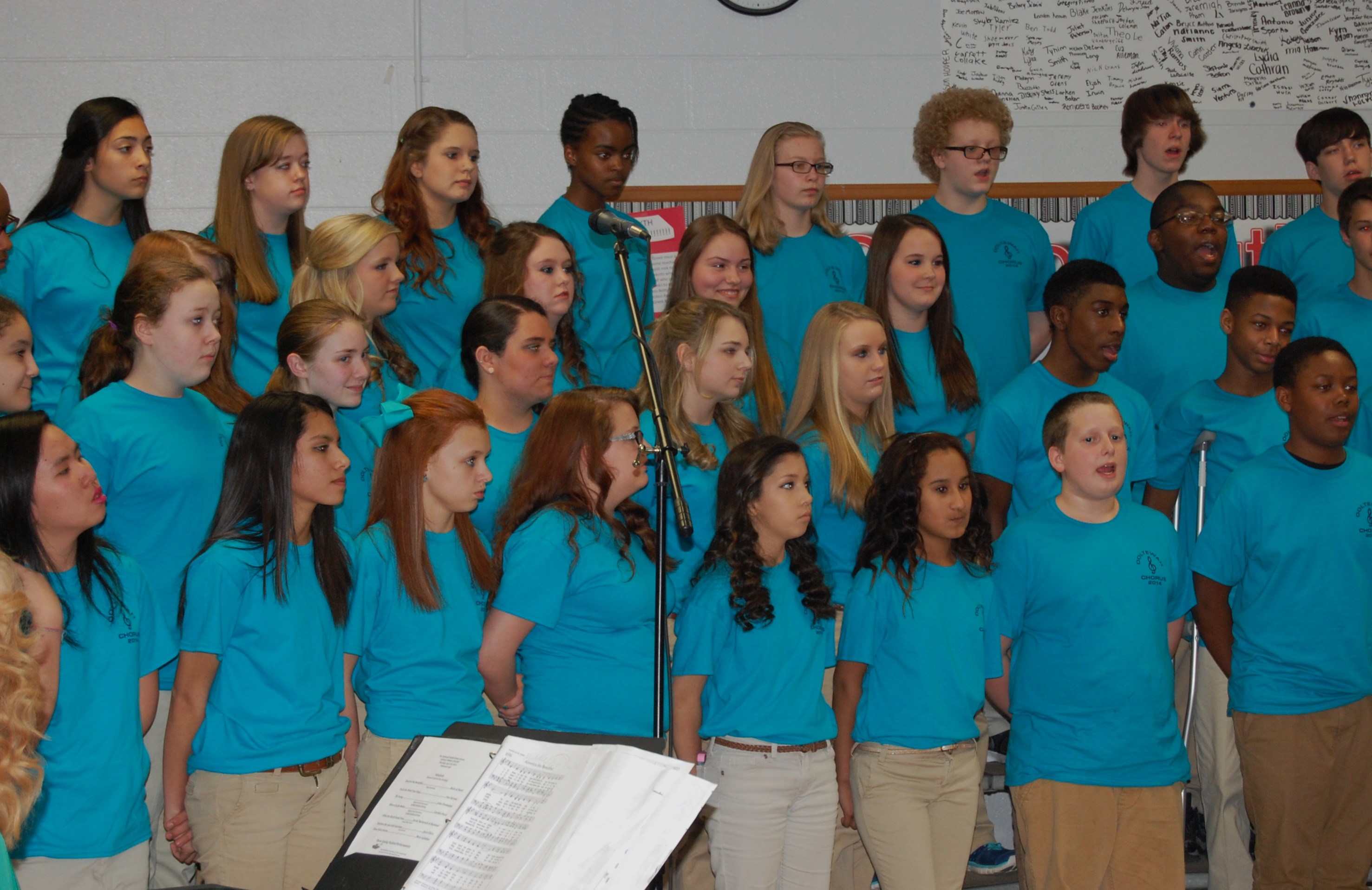 CHORUS MEMBERS 2016-17
8th Grade Members
1. Araque, Jaelyn Rachel
2. Ballew, Mackenzie Marie
3. Beikman, Breonna
4. Blair, Thomas
5. Carrigan, Savannah Cheyenne
6. Chambliss, Kelvin
7. Cobon, Jeremy
8. Currio, Ana
9. Davenport, Taylor Jeriah
10. Desai, Isha
11. Ethridge, Rena C
12. Fernandez, Daniel
13. Francisco, Maggie
14. Gonzolas, Adrian
15. Gonzalez, Nayleska Blaismari
16. Hartman, Laurel
17. Hernandez, Elizabeth B
18. Hough, Savanna Shay
19. Howard, Rene' Marie D
20. Hughes, Chelsea Gabrielle
21. Hullander, Courtney Faithe
22. Jurado, Athina Elizabeth
23. Keoninthone, Angie
24. Kidd, Alexis Raven
25. Kilimnik, Lily Elizabeth
26. Lewis, Sydney McKenzie
27. Linn, Seska Anij
28. Little-Ankofski, Kearsten Marie
29. Lively, Erika Alise
30. Malone, Grace Claire
31. McWhorter, Tyresia Lashae
32. Moreno, Scarlett
33. Muzyl, Jistien Rose
34. Naughton, Chloe Hannah E
35. Neff Bryanna
36. Omeragic, Luna
37. Parrish, Destiny Lynn
38. Quinones, Glennis Desiree
39. Ragin, Toni Lynn
40. Reedy, Jacara
41. Santana Reyes, Nieves Stanleidy
42. Schreur, Rachel Lynn
43. Shelby, Aaliyah Nicole
44. Sholtz, Nadiea Lynn
45. Tansil, Kyra D
46. Thomas, Dana
47. Turner, Kamille Amika
48. Varnell, Sam Conley
49. Velsquez, Tiana
50. Villarreal, Daniel Luis
51. Viox, Zoe Jade
52. Wade, Kierstin
53. Williams, Grace Maureen
54. Woolwine, Shelby
7th Grade Members
1. Alfaro, Victoria
2. Bonds, Marvin
3. Buckner, Allison
4. Callahan, Yasmin
5. Chastain, Brayden
6. Doty, Christian
7. Chi, Marlena
8. Evans, Brooklyn
9. Kitchen, Jordan
10. Hernandez, Kennia
11. Hoskins, Danielle
12. Hughes, Shawna
13. Johnson, Amy
14. Kotouc, Sharon
15. Lara, Vanessa
16. Lazarte, Giancarlo
17. Lewis, Charlotte
18. Lewis, Stephen
19. Moreno, Mario
20. Moore, Aubrey
21. Owens, Key'Ijah
22. Perez, Maria
23. Rocha, Alejandra
24. Rocha, Karina
25. Saldiran, Branden
26. Selzer, Kaya
27. Sepulveda, Yesenia
28. Stephens, Alexis
29. Stephens, Zoe
30. Thomas, Tansil
31. Turner, Jewel
32. Vazquez, Samantha
33. Wells, Jadah
34. Wright, Paige