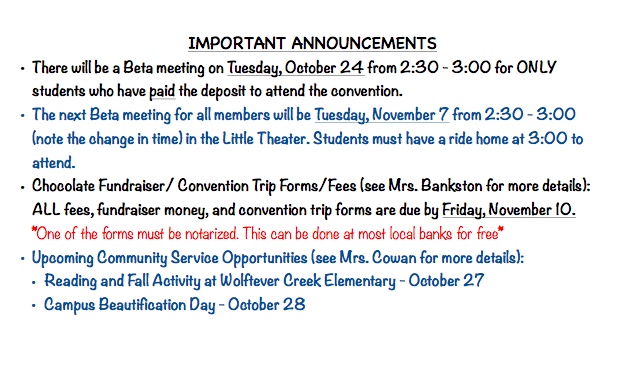 * PLEASE SCROLL TO THE BOTTOM FOR INFO ON HOW TO SIGN UP FOR REMIND COMMUNICATION. ALL MEMBERS AND PARENTS ARE ENCOURAGED TO SIGN UP. THIS IS HOW WE COMMUNICATE*
PRESIDENT - JAKE DAWES
VICE PRESIDENT - STEPHEN ANDREWS
SECRETARY - CAROLINE HOUSEMAN
TREASURER - MACIE COLEMAN
---
State Junior Convention
The state junior convention will be Sunday, November 19 - Tuesday, November 21. The convention is held at the Opryland Hotel in Nashville, TN. Students compete in various competitions and activities, as well as hearing from exciting key note speakers. The cost will be $200. All fees, forms, and fundraiser money is due by Friday, November 11 to Mrs. Banktson.
CLICK HERE for the state convention handbook.
CLICK HERE for the tentative schedule for the state convention.
---
Requirements for OMS National Junior Beta Club
1. Maintain an A/B average in all classes throughout the year
2. Complete 10 service hours - See Mrs. Cowan for more information
3. Participate in at least 2 after-school Beta meetings or activities
4. Exemplify role-model behavior
ALL BETA MEMBERS ARE REQUIRED TO JOIN REMIND USING THEIR CELL PHONE OR COMPUTER. PARENTS, YOU CAN JOIN REMIND TOO. REMIND WILL BE USED AS A WAY FOR SPONSORS TO COMMUNICATE WITH BETA STUDENTS AND PARENTS ABOUT UPCOMING EVENTS AND NEWS. REMIND ALLOWS SPONSORS TO SEND GROUP TEXTS TO ALL STUDENTS AND PARENTS THROUGH THE APP, OR CAN BE USED TO COMMUNICATE WITH STUDENTS AND PARENTS INDIVIDUALLY.